RBS supplies ball screw product accessories pertaining to mounting, lubrication, safety devices and debris elimination.
---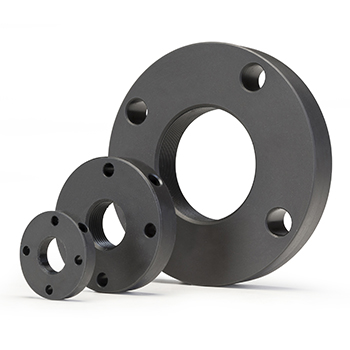 Mounting Flanges
RBS manufactures both Standard and Custom mounting flanges to suit the customer's needs. Flange configurations include standard bolt through round, trunnion, custom flats, ported or lubed, square, etc.
Additional Mounting Flanges Information
Mounting Flanges
If a mounting flange is used instead of the standard v-thread on the ball nut body, it must be permanently attached to prevent disengagement during operation. The two standard methods of retaining the flange is pinning and retaining with a set screw. Commercial thread locking adhesives may also be used (light loads only). It is always recommended that the flange pinning be performed at the factory to assure no metal chips are present after drilling.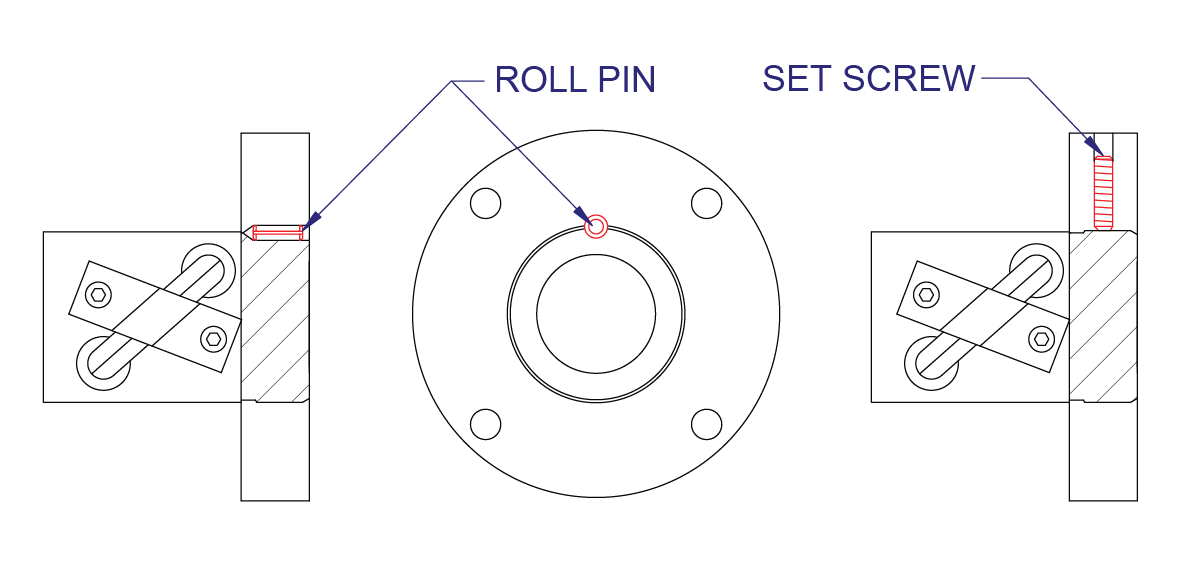 Flange Orientation
The orientation of the flange bolt holes to the return tube components varies with the number of holes in the flange. Unless otherwise specified, the following illustrations represent the standard orientations.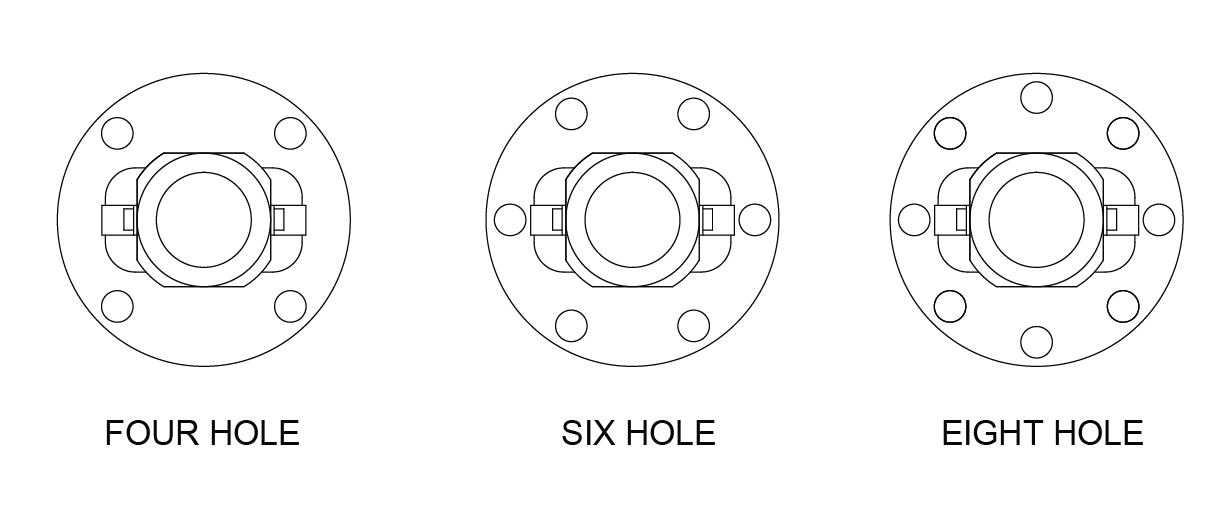 ---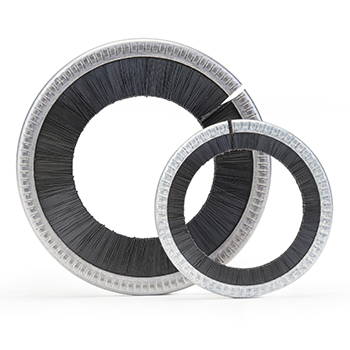 Wiper Kits
Wiper kits are available for all standard ball screw models. The nylon brush wiper is designed to keep large particulates from entering the ball nut. However for harsh environments, the use of boots or bellows to enclose the screw is recommended. Contact Rockford Ball Screw for further information on enclosures.
Additional Wiper Kit Information
Wiper Kits
Our product catalog pages detail the type of wiper mounting arrangement for each ball nut model. Brush wipers may require customer supplied retention primarily on the V-thread end of the ball nut (on models that do not have internal wipers and snap rings). A stamped flange retainer is available for many models that do not have internal snap rings for wiper retention (see data pages for available sizes).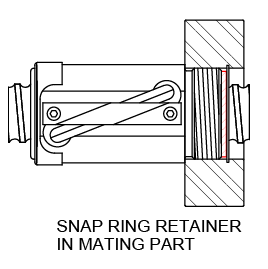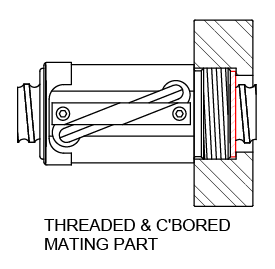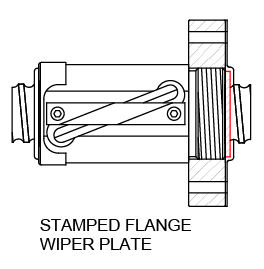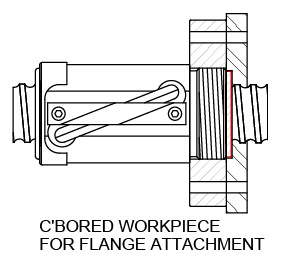 ---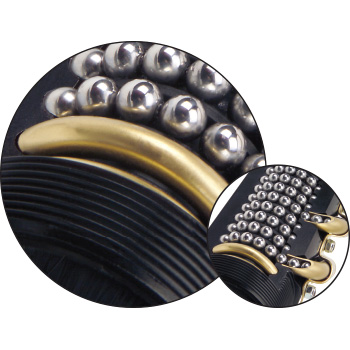 Safety Springs
RBS installs Safety Springs in Ball Nuts utilized for vertical applications. Safety Springs prevent the ball nut from a free fall condition in case of a ball nut catastrophic failure.
The safety spring is a coiled spring installed in the inactive part of the ball nut and conforms to the ball screw thread. The spring is inactive during normal operation and does not contact the screw. In the rare event that the balls are lost from the ball nut, the safety spring will assume the load and prevent the nut from "free falling" down the screw. The spring is not designed to maintain normal operation and the ball screw assembly should be taken out of service after first engagement of spring. Safety springs are available for all ball screw models. The safety spring is mandatory if the screw is being used to lift, support or otherwise transport people. Please inform our customer representative that you require the safety spring for your particular application.
---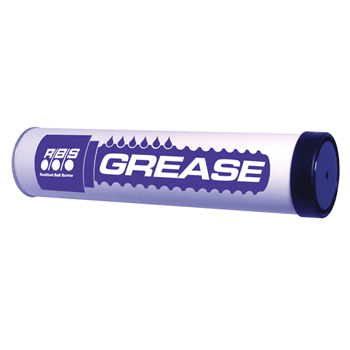 Lubrication
Rockford Ball Screw provides recommended lube for ball screw and ACME screw products. Lubrication is required to achieve optimum life for a ball screw assembly. Ball screws that are not lubricated can experience up to a 90% reduction in calculated life. In general, standard lubrication practices for anti-friction rolling element bearings apply. Grease, oil or dry film lubrication can be used. Many ball nuts are equipped with a 1/8-27NPT lube port machined into the nut body. For models that do not have a factory lube port, contact factory for recommendations regarding application of lubrication.
Additional Lubrication Information
Lubrication
Lubrication of the ball screw assembly is extremely important to maintaining optimum efficiency and life. The ideal access point of introducing the lubrication is directly into the ballnut. Below we have illustrated a number of methods that have been utilized to ease the process of lubricating the ballnut. Should none of the methods apply to your application, please consult factory.
LUBE PORT INCLUDED ON BALLNUT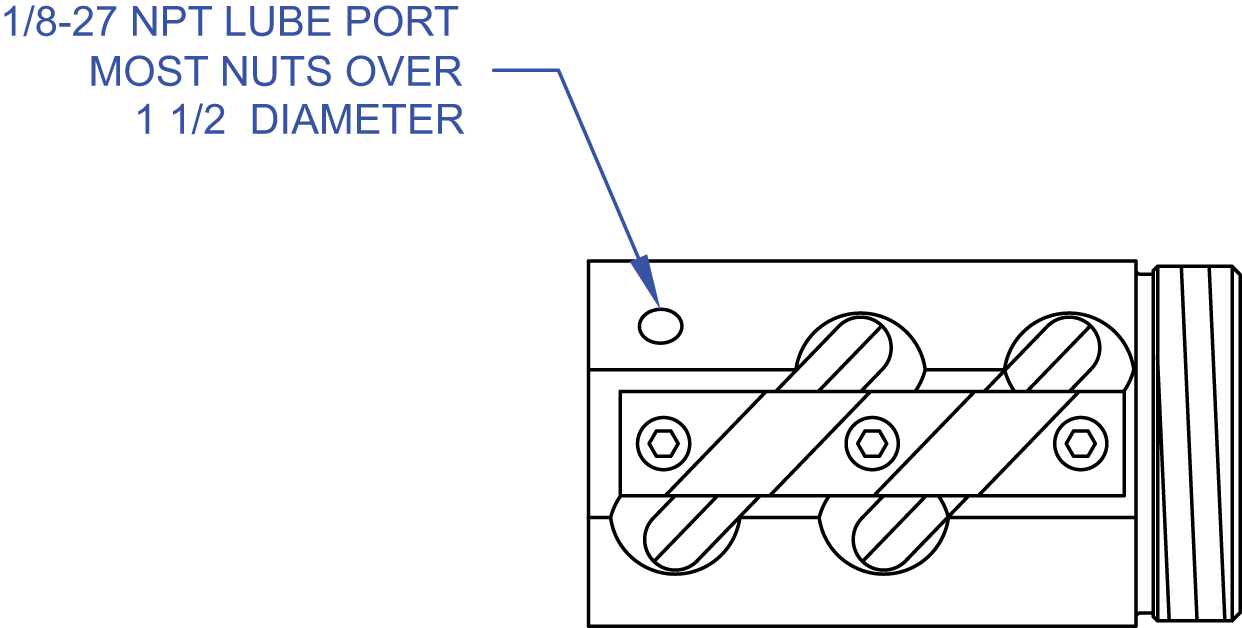 LUBE PORT IN FACE OF FLANGE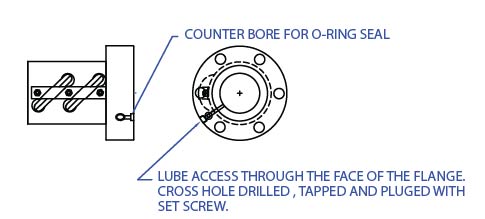 ZERK FITTING INSTALLED IN SIDE OF NUT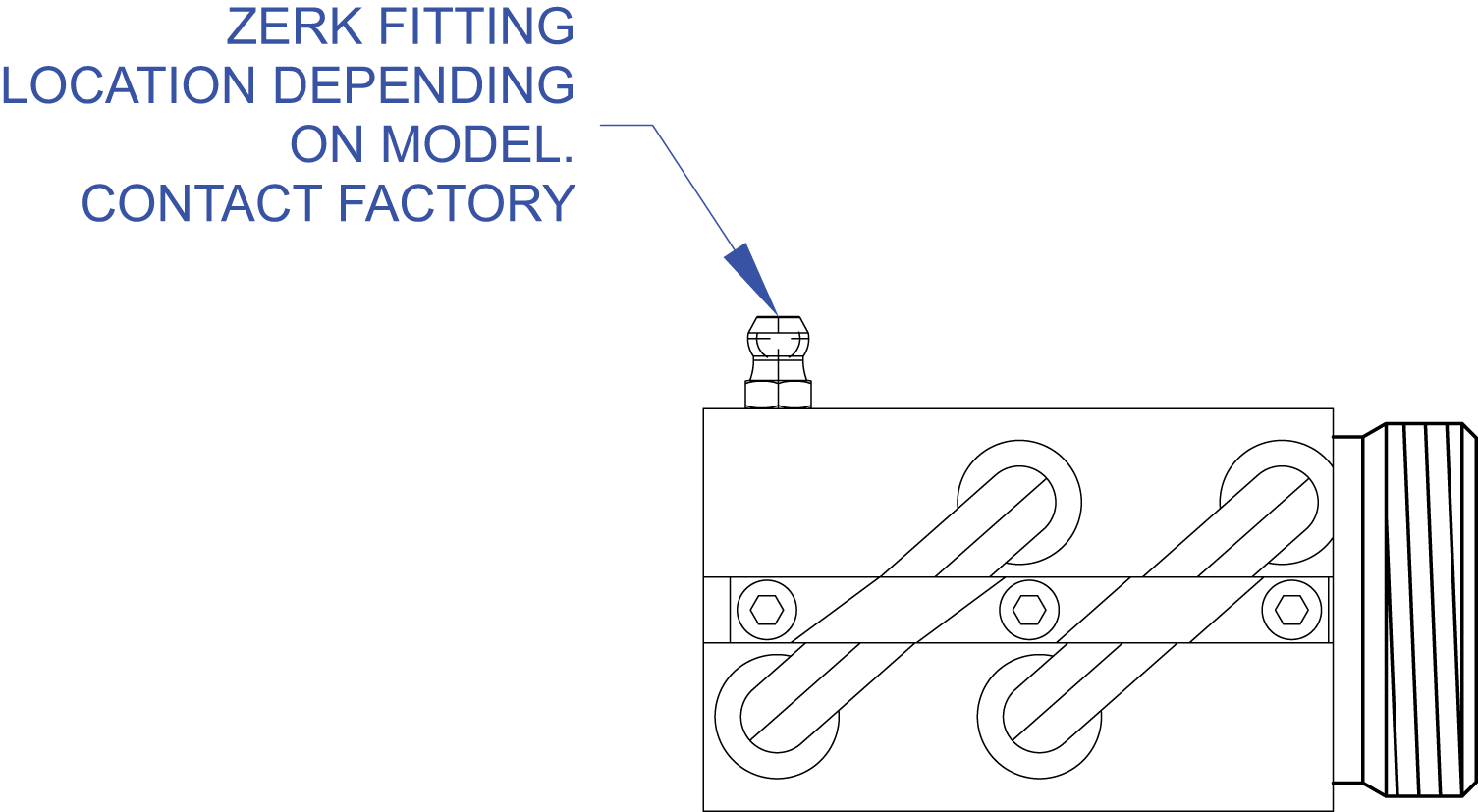 LUBE PORT INSTALLED IN FLANGE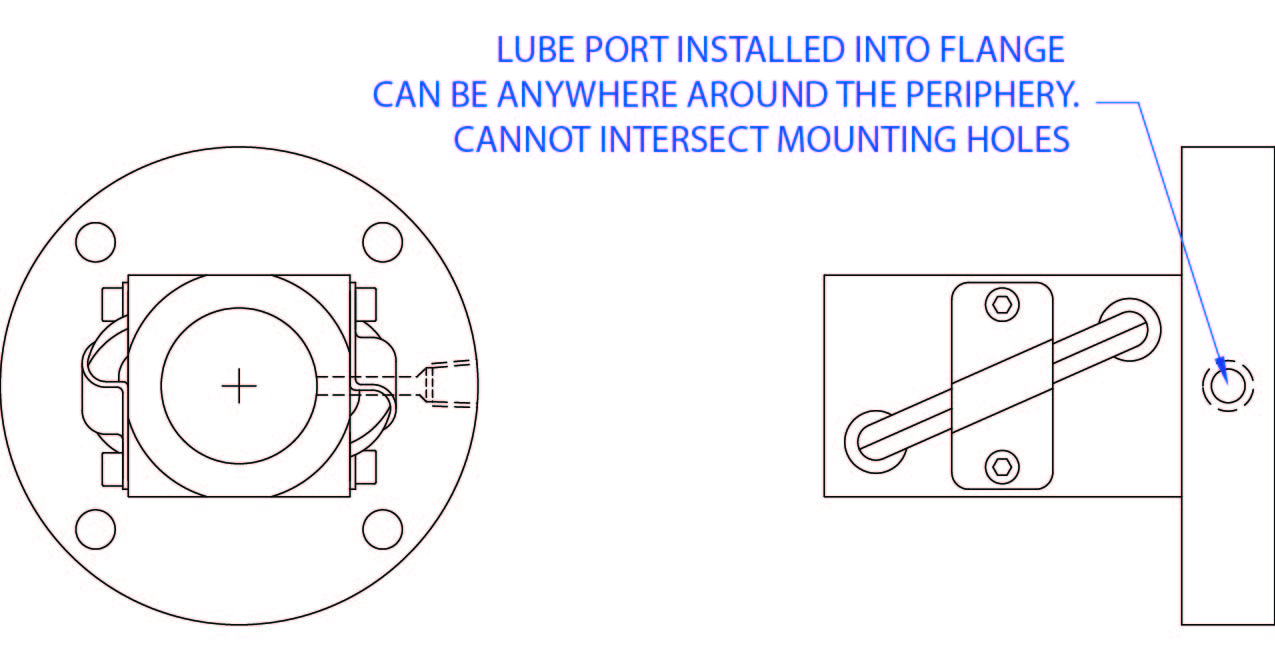 LUBE ACCESS HOLE IN GROOVE OF MOUNTING THREAD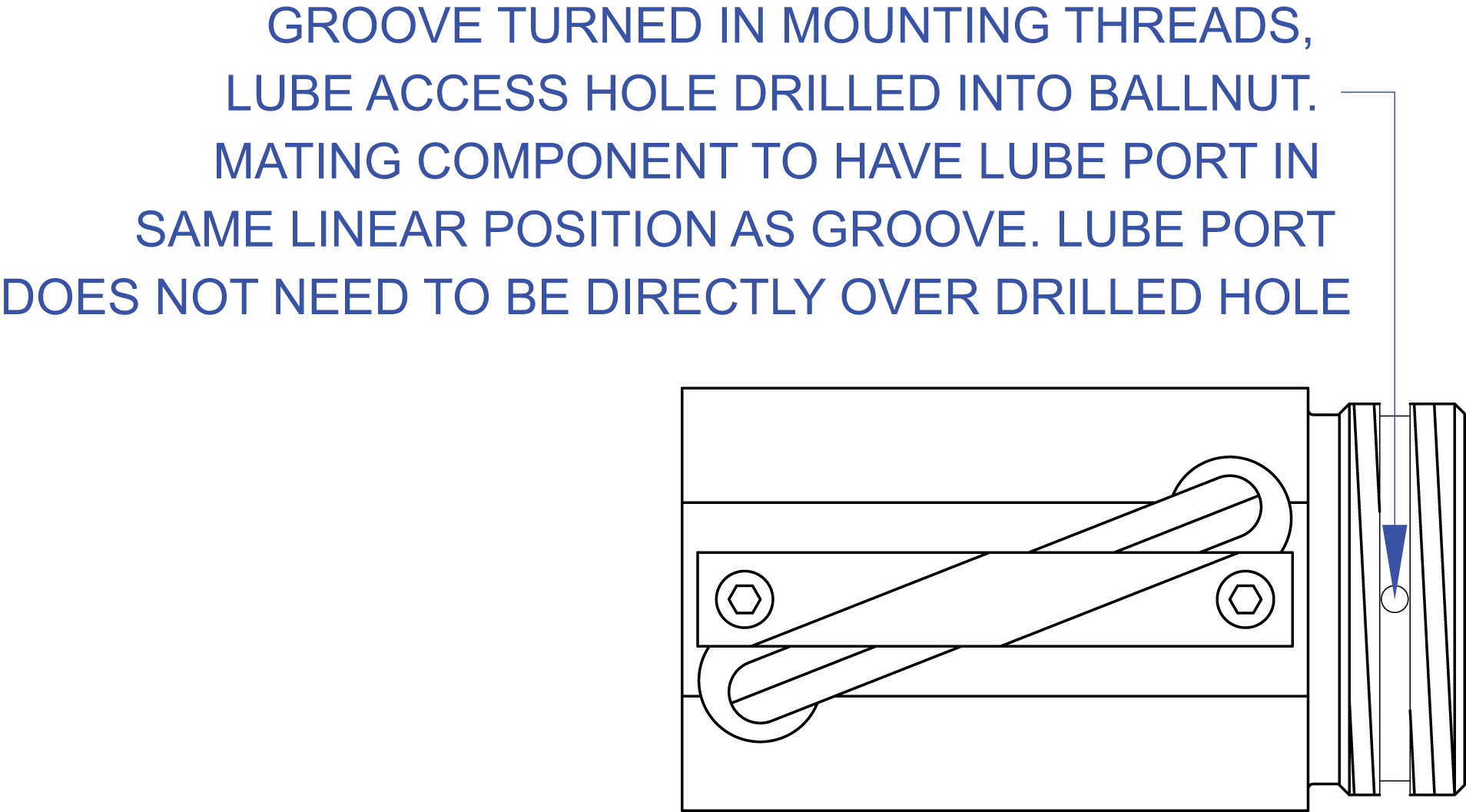 RBS Multi-purpose Synthetic Grease
AVAILABLE IN 14 OZ. CARTRIDGES
NOTE: To achieve optimal grease performance, it is recommended that the machine components should be kept in careful alignment, the operating environment should be kept clean, and the assembly should be periodically inspected for proper lubrication quantity and integrity.
Advantages
Proper lubrication along with reducing/eliminating foreign contamination are essential for preventing premature catastrophic failure. The R/B/S multi-purpose PTFE fortified synthetic grease has been specifically formulated with extreme pressure and anti-wear additives to reduce rolling element friction, wear, and provide noise damping characteristics. The excellent mechanical stability allows for compatibility with ferrous metals, non-ferrous metals, and most engineering plastics.
Consult the factory for specific material interactions. R/B/S recommends this grease be used for ballscrew, ACME screws, bearing mount, and other applications requiring excellent hydrodynamic lubrication.
Data Multi-Purpose Grease Specifications:

NLGI Grade:
2
Temperature Range:
-40ºF(-40ºC) to 300ºF(135ºC)
Base Fluid
Viscosity (cSt):
75 @ 40ºC
12 @ 100ºC
Worked Penetration:
(ASTM D1403)
291
---