Our Linear Bearing Blocks are available with or without a flange and in standard or low profile height. All of the linear bearing blocks use a universal profile guide rail and both sides of the guide rail are ground as datum references.
Rockford Linear Motion carries both a Standard Profile (RPGH) and Low-Profile (RPGS) style block. Both the RPGH and RPGS blocks have four circular arc raceways; each raceway has a 45º contact angle which allows for equal loading in all directions. The raceways and Double Face Configuration (also known as an "X" Configuration) offers high-rigidity and tolerates misalignments of the rail. The RPG Linear Guide Series can be interchanged with most competitors' products.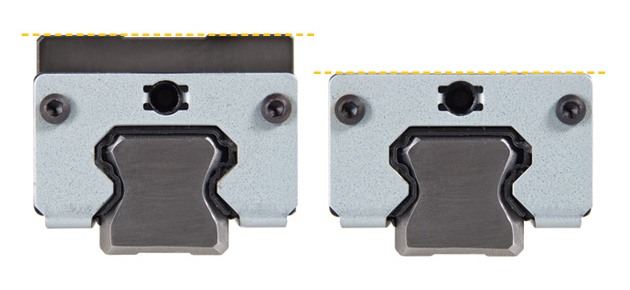 ---
Characteristics & Advantages
Four Way Equal Loading
RPG blocks have four raceways, each having a 45º contact angle. This allows equal loading in all directions; pressing, lifting & transverse.
High Rigidity & Self Alignment
The Double Face (DF) configuration and circular arc raceways of the block offer high rigidity while maintaining self-alignment.
Universal Rail
Both standard (RPGH) and low-height (RPGS) blocks use a common rail. Both sides of the rail are ground as datum references.
Enhanced Features Are Standard
End seals are a standard feature on each block; most sizes also have a long-life lubrication reservoir, a metal seal retention frame and side seals. Since interchangeability specification tolerances are tightly held, when using multiple parallel rails simply order multiple assemblies. Mounting Bolt hole protective caps are included with every rail.
Industry Standard Mounting/Envelope Dimensions
Designed in accordance with international standards.
---
---